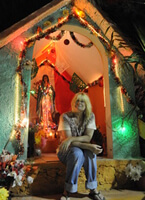 Lecturer
International and Area Studies
101 Stephens Hall
Phone:
(510) 643-0729
Email:
sballenger@berkeley.edu
Office Hours:
Online only, 127 Stephens Hall
About
I received my Ph.D. in Latin American History from UC Berkeley in 2009. My research interests encompass the intersection of medicine, religion and political power in the eighteenth and nineteenth centuries. I also remain interested in cross-cultural and transnational approaches to health and the politics of health, histories and cultures of medicine and the body, and the relationship between the modernization of medical knowledge, the politics of expertise, and the formation of modern national and cultural identities.
I have also conducted research that explores how people in small communities in southeastern Mexico have responded to the recent expansion of tourism in the region and its impact on their economies, environments and participation in local political struggles. My teaching interests extend to global and transnational histories, especially related to the formation of religious, ethnic and racial identities in Iberia, Latin America and the Atlantic World; the role of commodities, cultures and labor systems in the building of a global economy after 1500, and the politics of 'revolution' in relation to political economy.
Prior to pursuing a doctoral degree, I worked for twelve years in the legal sector as an affordable housing project development coordinator.