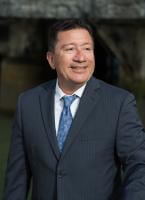 Academic Advisor
Latin American Studies, Development Studies, Political Economy
101 Stephens Hall
Phone:
(510) 643-7282
Email:
amaurice@berkeley.edu
About
Alex has been advising students at various universities since 2003. Prior to UC Berkeley, he worked at the City University of New York, Touro University-New York, the University of San Francisco, and San Francisco State University. Alex has also worked as a credentialed mental-health counselor, and as a lecturer for writing and English programs.
He holds a Master's degree in Writing from the City University of New York, a Bachelor's degree with two majors: Psychology and Journalism from Brooklyn College, and a Graduate Certificate in Counseling from Long Island University.
Alex is passionate about education, social justice, and using creativity to break down barriers and create community. He enjoys writing, reading, bicycling, and taking a swim in San Francisco Bay – wearing a wetsuit, of course.